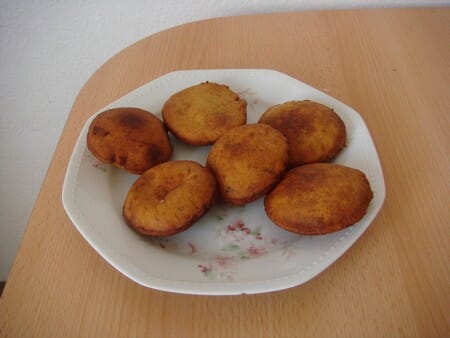 True Ugandan kabalagala banana pancakes are made using "ndizzi" bananas (as they are called in some regions of Uganda), but what do you do if you are in a place where you have none, but lots of "plantains", known in Uganda as "gonja"? I tried it and in my opinion, they taste more like the "real thing" than with other banana types found in some places. The recipe & especially video, though illustrate how to make Kabalagala with or without ndizzi.
Ingredients
For: 4 servings
1/2

kg

plantains (

very ripe/overripe

)

1/2

kg

cassava flour (

(Not all is necessarily used - see below)

)

1/2

liter

oil (

enough for deep frying

)
Instructions
Preparation

15

min.

Cooking

30

min.

Ready in

45

min.
Peel the plantains and mash them in a dish

add cassava flour little by little while mixing until it reaches a consistency allowing you to handle & knead it without it getting sticky. I have not stated the weight of flour used, because I did not weigh it, though for the 2 relatively big bananas I certainly used less than half a kilo, probably 300 - 400g. Knead it for a while with the hand.

place the dough on a lightly powdered board and roll it to about 1/2 cm thickness. If it sticks too much on the rolling pin, it means you may need to add a little more flour.

In the meantime, heat oil in a teflon frying pan

Use a cup or other appropriate "cutter" to cut the dough into round shapes

With the right oil temperature the "kabs" should take a couple of minutes (around 4 - 5) to get ready. You might need to turn them over
Recipe notes
Have a look at our other Kabalagala (Ugandan banana pan cake) recipes on this site